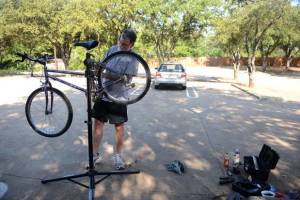 As you know four times a year we serve at The Gathering (a homeless congregation that meets at Thanksgiving Square every Sunday).
John Lee, a parishioner at Church of the Ascension, has started a bike outreach for The Gathering. It is part of a bike ministry, A Ride Home, to give the homeless transportation to eat and work. He is taking donated, used bikes and fixing them up to give to the homeless who attend the service.
James Jones has been homeless for more than half of his life. Before, he walked to collect cans to recycle for money. Since he received his bike, he now can cover 25 miles a day and has more than tripled his recycling earnings on a recent Sunday to $16. He said, "It's awesome they have given us these bikes. It's the best thing anybody could have done for us."
If you or anyone you know has a bike sitting around collecting dust, please help with this worthy ministry by donating it. You can read more about this amazing outreach ministry in this recent Dallas Morning News feature story.
You can call or e-mail Lisa Cain at ljcain@me.com and we will be happy to come pick it up and deliver it to John Lee at Ascension.
Thank you in advance for your much appreciated help. – Lisa Cain
Photo by ROSE BACA/neighborsgo staff photographer