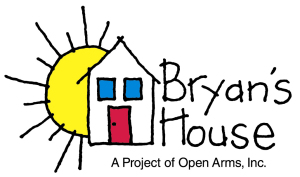 Nothing personifies the mission of Bryan's House more than the Little Red Socks of Love, which represent the little boy for whom the organization is named. Bryan Allen was one of the first known children in Dallas to die from AIDS. Bryan did not live to see his first birthday, but did manage to battle a courageous fight through Christmas of 1985. The only things his mother kept from his short life were his baby pictures and the little red socks he wore for Christmas. To this day, Bryan's House continues to be a safe haven for children and families impacted by HIV and AIDS.
You can help make the year a little brighter for Bryan's House children by making a donation. Simply fill the sock with whatever you can spare whether dollars or cents. You may wish to write a check. If making a donation by check, please make checks payable to Bryan's House. On the memo line of the check, you may want to reference St. Thomas Church Outreach. This will reflect our tradition and legacy of Bud Knight and Chet Flake in giving to Bryan's House.
The little red socks can be found in a basket near the sanctuary and can be placed in the offering plates during any of the services or can be given to James Brown or Jerry Knight for collection. This outreach opportunity will run from Thanksgiving to Christmas.
For any questions, please reach out to James Brown or Jerry Knight who are leading the Little Red Socks outreach campaign.