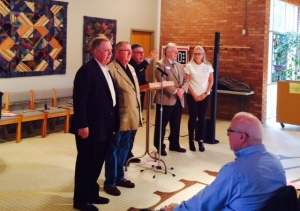 Thanks to everyone who came out to the Annual Meeting last Sunday, Dec. 7th. Results are as follows:
Newly elected Vestry members are Lisa Cain, Fred Ellis, Joe DeuPree.
Newly Elected Trustee of Endowment is Wynne Voorhees.
Newly Elected Diocesan Delegate Alternate is Paul DesRochers.
Newly Appointed Senior Warden for 2015 is Duane Harbin.