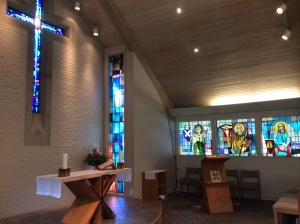 Our building and grounds not only are central to our worship, fellowship and education programs, they're a key part of our outreach. St. Thomas' welcoming campus has become a community center of sorts, playing host to nonprofit groups and community meetings during a typical week. Choruses, counseling groups, the League of Women Voters – they've all been our guests.
Church – St. Thomas' own version of an "extreme makeover" began in the mid-1990s when church members, who had been worshipping in the parish hall, decided to redo and return to their largely abandoned sanctuary. The darkened and neglected sanctuary turned into a bright, modern and inviting space that looks out on a lush fountain garden often used for meditation.
Parish Hall and Labyrinth – The labyrinth in the Parish Hall has become one of our community ministries. Parishioners and visitors alike walk it to find peace and solace.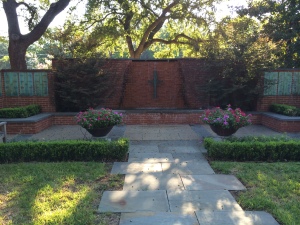 Fountain Meditation Garden and Columbarium – is a wonderful peaceful setting to rest and reflect comfortable sitting areas make this setting truly a place of comfort. The columbarium provides a final resting place for those who have been cremated Some niches are inside the sanctuary of the church and some are in the meditation garden. Contact the church offices for paperwork and fees.
Community Garden – On a once-vacant lot next to the church, members now grow thousands of pounds of vegetables that they harvest and donate to food banks and other community service groups. Our community garden best shows how parishioners have embraced the broader community with open arms. In 2008, The Most Rev. Katharine Jefferts Schori accepted St. Thomas' invitation to come to Dallas and bless the new garden that's "fighting hunger where we live."
Meeting Rooms and Offices – Our "west wing" of meeting rooms and offices, now adorned by stained-glass windows from the original sanctuary, primarily hosts church functions, such as adult education programs, Vestry meetings, committee meetings and smaller receptions. The suite of church offices accommodates the rector, administrative assistant and volunteers and includes a conference area. The north room is a newly renovated second meeting space frequently used by community groups.
Nursery and toddler room – The beautifully renovated and decorated nursery is a safe an welcoming space for our youngest members staffed by 2 volunteers on Sundays and during special events.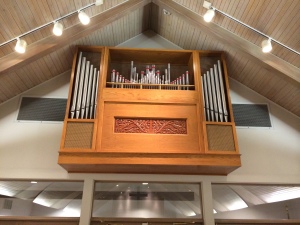 The Organ – The Monarke Organ, a gift from beloved members Chet Flake and Bud Knight, is a hybrid instrument with some tones produced by wind blown pipes and others electronically reproduced by digital samples of pipes from organs in Europe and the U.S. The console and digital instrument was custom made by the Johannes Organ Company in The Netherlands. The pipes were constructed by Jacques Stinkens Organ Pipes Makers, a 100 year old Dutch Company. With voices equivalent to 53 registers of pipes, the instrument produces both pure organ tone as well as sounds imitative of flues, strings, brass, and bells.