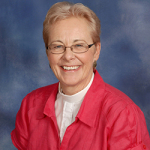 The Reverend Joy Anne Daley – 4th Rector
joy@thedoubter.org
Mother Joy joined Saint Thomas the Apostle beginning March 2014, following the interim administration of Mother Nancy Smalley after the retirement of the Reverend Stephen Waller. Mother Joy inherits a diverse and service oriented congregation. Mother Joy's ministry began at Transfiguration in 2001 where she served as Associate Rector for Congregational Life. She was ordained in June of that year after completing a MDiv at Brite Divinity School at Texas Christian University. Before that she worked in the counseling field as a Licensed Professional Counselor. She has two grown children and four delightful grandchildren. An introvert by nature, she enjoys quiet time with a small group of friends, walking, reading, photography and riding her bicycle.
---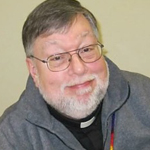 The Rev'd Ray Ball – Assisting Priest
The Rev. Ray Ball comes from a military family so his experiences are wide and varied. He was born in Lubbock, Texas, and has lived in the Dallas area for the last 40 years. He is a graduate of Baylor University, Grace Christian College of North Carolina, The Anglican School of Theology at the University of Dallas, and Trinity Evangelical Seminary. Fr. Ray retired in 2011 after serving as Rector of All Saints, Dallas, for 19 years. He has also served as Director and Headmaster of All Saints Episcopal Learning Center and as an instructor at the Anglican School of Theology. He is a trained spiritual director and a member of Spiritual Directors International, as well as chaplain of the International Order of St. Luke the Physician. Fr. Ray is married to the former Bridgette Chace Kelly and has two stepdaughters, Erin and Caitlin Kelly.
---
STAFF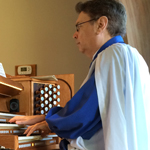 Lee Corbin, Organist and Choirmaster
music@thedoubter.org
Lee Corbin has been organist/choirmaster at St. Thomas since 1985. He earned a degree in organ performance at East Texas State University and completed requirements for the Colleague certification in the American Guild of Organists. Each summer since 1999 Lee has joined other organists from the U.S., Canada, and Australia for a tour of organs in the United Kingdom. He has played many of the historic instruments in cathedrals, town halls, and parish churches in England, Wales, Ireland, and Scotland. He currently serves on the Executive Council for the Dallas Chapter of the American Guild of Organists.
---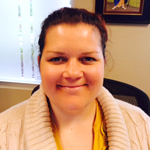 Jaclyn Weir, Parish Administrative Assistant
info@thedoubter.org
Jaclyn Weir was born in California but raised in Atlanta, Georgia; she received her Bachelor's Degree in Psychology at Troy University. She met her husband, a Texas native, in Atlanta and they returned to Garland, Texas where they now reside. They have two dogs, Stratocaster and Gibson that run their day to day lives. Jaclyn is so excited to be working at such a wonderful church and feels so blessed to have been welcomed so warmly into the St. Thomas family. When she is not working she enjoys camping, seeing movies, reading, and experiencing new adventures in her new home in Texas.
---
Garry Rodriguez, Sexton
---
And in addition to our professional staff, you will often find the office and campus tended by a number of dedicated volunteers from the parish family itself.
---
VESTRY
Fred Ellis, Senior Warden
Joe DeuPree, Junior Warden
Lisa Cain
Ginger Reeder
Duane Harbin
David Hess
June Marshall
Frank Gregg
Rett Evans
Denise Webb Glass, Chancellor
Rusty Rippamonti, Vice Chancellor
Wynne Voorhees, Treasurer
Jim Couzelis, Assistant Treasurer
David Flick, Clerk